Raveena Tandon, Divya Bharti and the Idea of Success
With a break at the end of every over, cricket is a sport made for advertisers. And this can sometimes get very boring for viewers, particularly if they are watching a cricket match on an OTT or streaming service, like I was in February when India played Australia in a test match.
The good thing was that the match ended within three days, or the boredom leading to irritation would have lasted longer. This was because one Club Mahindra ad featuring Raveena Tandon was played repeatedly.
In this ad, Raveena, a heartthrob of boys who grew up in the 1990s, is seen explaining to people the advantage of taking on a Club Mahindra holiday membership. The ad ends with Raveena saying: "Kyun, haina Club Mahindra membership family ke liye mast mast choice? (Isn't a Club Mahindra membership a good choice for the family?).
The word mast is an allusion to the superhit song tu cheez badi hai mast mast from the movie Mohra, released in 1994. The song featured Raveena along with Akshay Kumar. It was composed by Viju Shah and written by Anand Bakshi.
In fact, in the grand tradition of Hindi film music directors, Shah's composition was inspired by Nusrat Fateh Ali Khan's rendition of a qawwali titled dam mast qalandar mast mast (not to be confused with Dama Dam Mast Qalandar).
If you listen to Khan's rendition of the song and Shah's composition sung by Udit Narayan and Kavita Krishnamurthy (now also known as Kavita Subramaniam), you do come to the realization that Shah has worked on the basic tune to make it mass market.
In that sense, Hindi film music directors and lyricists taking an existing song and making it their own has been more or less a tradition. Take the case of the 1956 classic ae dil hai mushkil jeena yahan, composed by O.P. Nayyar with lyrics by the genius Majrooh Sultanpuri.
The tune is a copy of the American folk ballad Oh My Darling, Clementine. But Majrooh made the song his own by writing lyrics representing what was then Bombay (or 'Bambai' in colloquial Hindustani). In fact, it remains the best song written on the city to date and continues to be used to represent the city in popular culture. (The second best Bombay/Mumbai song, I think, was in a movie called Paanch, which never released, with the lyrics kya din kya raat hai yahan par).
Then there was my childhood favourite, chukar mere mann ko from the 1981 film Yaarana, composed by Rajesh Roshan. The song was inspired by the Bangla song tomar holo shuru, originally composed by Rabindranath Tagore. You listen to the original, and then you listen to the inspired version, and you realize that the inspired version also has some originality to it.
Now getting back to what I was talking about, the song, tu cheez badi hai mast mast. The song was a superhit when it first released, and it led to Raveena being called the mast mast girl, something she is still making money from, given that the moniker was alluded to in the Club Mahindra ad.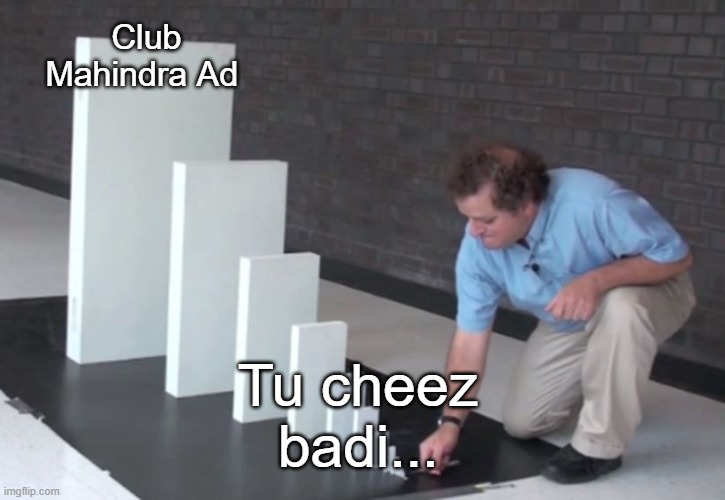 But the fact of the matter is that this wouldn't have happened if Viju Shah hadn't decided to get inspired by Nusrat Fateh Ali Khan's qawwali and compose a mass song out of it. The point I am trying to make is that any success and the ability to continue to be relevant is also a matter of many things coming together.
If Nusrat Fateh Ali Khan hadn't composed the qawwali, Viju Shah wouldn't have been able to compose the song, and Anand Bakshi wouldn't have been able to write the lyrics that he did. This wouldn't have allowed Shabbir Boxwala and Rajiv Rai (who also directed the movie), the writers of Mohra, to create a situation for the song in the film.
The fact that the writer and the writer-director were able to create a situation for such a song, allowed Raveena to become a part of the song in the film. That led to the mast mast moniker. And finally, some copywriter somewhere made sure to use that connection in the Club Mahindra ad.
The copywriter was able to remix Raveena's nearly three-decade-old success with a current up-market brand. As Jonathan Haskel and Stian Westlake write in Restarting the Future – How to Fix the Intangible Economy: "Today's economy has an unprecedented stock of intangible assets…. These assets are sometimes unusually valuable when you combine them in just the right way."
So, Raveena's moniker as the mast mast girl is a valuable intangible asset that has been combined with the Club Mahindra brand in the right way, and something has been created out of it.
In that sense, success and its continuation can also be quite random and a combination of many other things coming together. Let's take a few more examples to understand this in detail.
1) The economic reforms of the mid to late 1980s and 1991 opened up a huge number of opportunities for engineers and MBAs. Many such individuals were at the right place at the right time as the Indian businesses (particularly IT businesses) took off.
Such individuals, even mediocre ones, did well for themselves. Now two to three decades later, people who rode this wave are extremely successful individuals, the Sharma ji ka betas (sons) and betis (daughters) of the world.
Nonetheless, despite all the talent these individuals had (or did not have, for that matter), the fact of the matter remains that if the Indian economy hadn't opened up in 1991, the careers of many wouldn't have taken off as they did.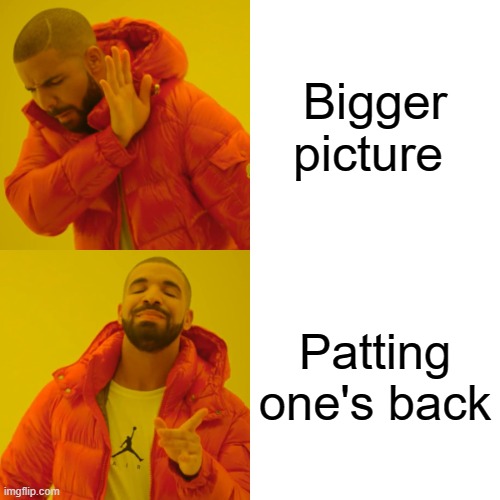 Of course, when you talk to such individuals, most don't even realize the big-macro reason behind their success. As Haskel and Westlake write: "It is often argued that individuals overweight their own contribution to their success and underweight the collective contribution."
Other than economic reforms, the other collective contribution was that of the higher education institutes these people went to, which charged a very low fee. These higher education institutions were built at the cost of building a good primary education system in the country.
So, India did a lot to churn out a generation of engineers and MBAs, who in turn immigrated overseas and now look at their success as totally their own effort and are happy to give gyan to us lesser mortals on everything. This is wrong. Like in the case of Raveena, other factors were at work.
2) Or let's take the more recent case of the founders of unicorns (startups with a valuation of more than a billion dollars) and the media working overtime to turn them into god's gift to humankind.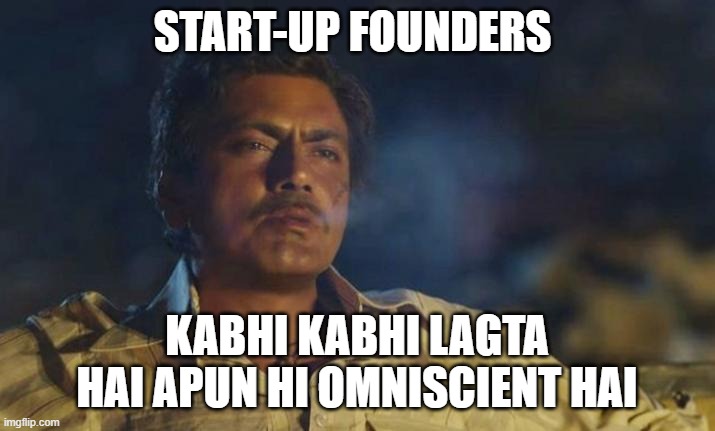 The CEOs/management of these firms have turned themselves into Gurus of everything.
In the morning, they can talk to you about how to invest your money, in the afternoon about why a college-degree doesn't make much of a difference, in the evening after coffee about how to live your life, post-dinner whether or not to leave India for further studies, and late night about which crypto to invest in, without even once talking about how and when they plan to do what is basically expected of them, that is to run a profitable business. It's all talk, talk and more talk.
The trouble is that none of these guys acknowledge the massive role of luck in building their billion-dollar startups. In the last 15 years, the rich-world Western central banks have printed a lot of money and pumped it into their respective financial systems. If I were to use an analogy here, when the rich-world Western central banks were printing money and throwing it out of a helicopter, the venture capitalists were the ones who stood right underneath it.
In The Price of Time, Edward Chancellor quotes a tech industry insider as saying that a lot of money printed by the Federal Reserve, the American central bank, made "its way to venture [capitalist] funds and from there into the pockets of a bunch of kids…building startups."
The fact is that there was so much money going around that running a profitable business became unfashionable. It was all about cash burn to build scale. VC money chased startups, and that led to excessive valuations. According to CB Insights, there are currently more than 1,200 unicorns with a total valuation of close to $3.9 trillion. The trouble is this goes against the very definition of a unicorn.
As Chancellor writes: "In 2013, venture capitalist Aileen Lee came up with the term 'unicorn' to describe startup companies valued at more than a billion dollars. Lee called these firms 'unicorns'… because 'it means something extremely rare and magical.'"
There's nothing rare and magical about most such firms now. But, with the VC money tap drying up, many unicorns are in trouble, and more will get into trouble soon. Their luck seems to be gradually running out.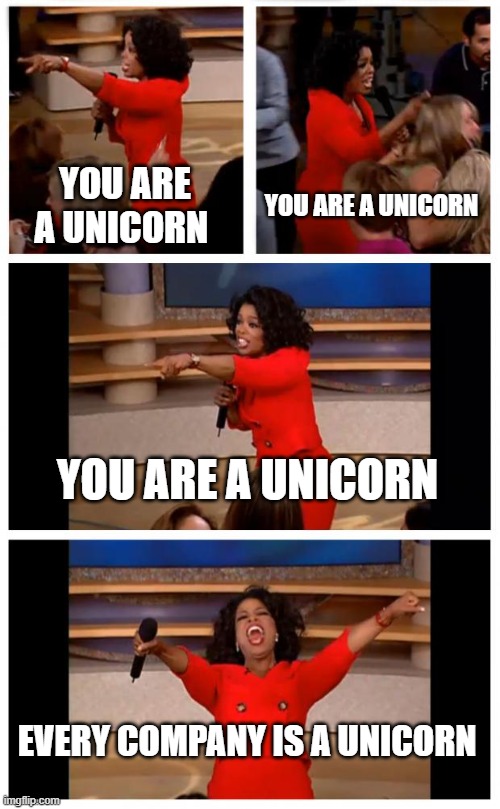 As Daniel Kahneman writes in Thinking, Fast and Slow: "Luck plays a large role in every story of success; it is almost always easy to identify a small change in the story that would have turned a remarkable achievement into a mediocre outcome."
In the case of unicorns, if the financial crisis of 2008 and the covid pandemic hadn't happened, and the central banks of the rich world hadn't printed as much money as they did, there would have been no chance of the world ending up with so many unicorns and in the process, India, for the lack of a better term, wouldn't have gotten so many Gyan Gurus. This would have been the small change in the story that Kahneman talks about.
Now the question is why does this happens. Why do we humans think that our success in life is all because of us and not because of luck and a combination of other things? This is primarily because of what Christopher Blattman calls the "attractions of a straightforward narrative".
As he writes in Why We Fight: "Any journalist, historian, or academic knows that to have narrative drive, you must leave a lot out." And to play heroes in the stories we live in our heads, we tend to do exactly that. We leave out the details that don't make us look like heroes. The media also does that.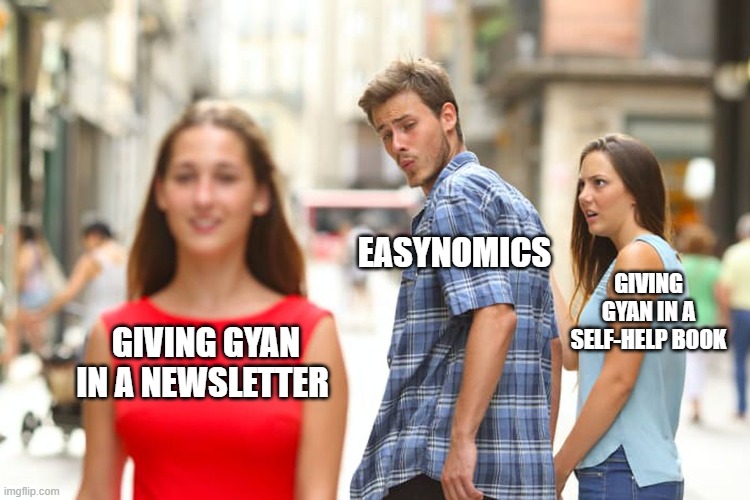 And this is why I will never be able to write a self-help book because at the heart of any self-help book is the idea that you can do it. Nonetheless, the thing is, in life, maybe you will be able to do it, or maybe you won't. Among other things, the luck of the draw also needs to go with you.
To conclude, there once was an actor called Divya Bharti. Before Rajiv Rai's Mohra was released in 1994, his movie Vishwatma had released in 1992. In this movie, Rai tried to build on the success of his 1989 hit Tridev. As often happens in such cases, Vishwatma didn't do anywhere as well as Tridev.
Nonetheless, what one still remembers from the movie is the superhit song saat samundar paar main tere peeche peeche aa gayi, composed by Viju Shah with lyrics by Anand Bakshi. It was sung by Sadhna Sargam. The riff that appears in the song was copied from the Pet Shop Boys' song Heart. And the song was majorly shot on Divya Bharti.
Bharti died in April 1993 when she fell from the balcony window of her fifth-floor apartment in Versova, Mumbai. A promising career was cut short. Thirty years later, her song saat samundar paar still remains very popular and gets regularly played on FM radio stations and by DJs.
And who knows, had she lived, she would have become the saat samundar girl and starred in a Club Mahindra ad featuring all the beach resorts that the company has. Some copywriter somehwhere could have randomly possibly thought of that.
PS: I made a very silly mistake in last week's piece. At multiple places, I referred to taxpayers who paid an income tax of such and such amount. What I should have basically written is taxpayers in the income slab of such and such amount. The way the table in the Lok Sabha answer I used in the piece was published ended up confusing me. While that's no excuse, that's what happened. I want to thank the Twitter handle, Nightwalker, who gradually nudged me towards the right answer, despite my resistance. Also, this does not change the conclusions made in the piece. My sincere apologies for the mistake.