A Story of Two Indias
One tree by itself never calls for admiration when the whole forest rises to the same height -- Seneca, Letters from a Stoic
"You are becoming too self-indulgent," a friend recently said after reading the last issue of Easynomics and the one before that. Well, if writers don't indulge themselves, who else will? An investment banker? Or a stock broker, for that matter?
So, this issue of Easynomics will be data-driven given that excess of anything is bad, and everything should be practised in moderation, including moderation. Let's go.
1) The waiting period for high-end cars continues to be very long. A recent report on Timesnownews.com points out that the order book in February was at over 700,000 units.
Of these cars, the Mercedes AMG G 63 has a waiting period of 12-16 months, and the Mahindra's Thar 2WD has a waiting period of more than a year (I mean, what's this with these random names of car models? Are we trying to project machoness here?).
Clearly, the demand for these and many other high-end car models is greater than their current supply. While I look at a car as something which helps us move from one place to another, not everyone puts such a minimal utility value on it. High-end cars and the process of buying and owning them provide a lot of meaning to the lives of people (usually men) who are moving up in life.
Anyway, the point is that if there is such a long waiting period for cars, who are these people who are saying that the Indian economy is not doing well?
2) From April to December 2022, Indians spent close to $10 billion on overseas travel. In fact, the exact amount is $9.95 billion, and this is the highest ever. In six out of the nine months, more than a billion dollars have been spent on travelling abroad. Clearly, there is no shortage of money going around, given what people are spending to see the world. So, what's all this talk about an economic slowdown? Rubbish, I tell you.
3) High-end real estate is selling faster than I can drink cups of my favourite black coffee. As a recent report by Reuters pointed out: "India's DLF sold a $1 billion upmarket residential project in 72 hours." "In all, a record 65,700 luxury units were sold in 2022, three times the previous year," the report further points out. There's so much money going around; I tell you, the India growth story is really taking off.
4) Between October and December, Apple sold two million iPhones in India. This was 18% more than the previous three-month period of July to September.
5) The German luxury carmaker Mercedes sold 15,822 cars in India in 2022, 41% more than in 2021.
6) As of January, the credit card outstanding rose to a record high of Rs 1.9 lakh crore, increasing by close to 30% compared to January 2022.
7) As Gautam Hari Singhania, chairman and managing director of Raymond Ltd, recently told Mint: "We have seen a strong bounce-back, especially in our physical retail stores."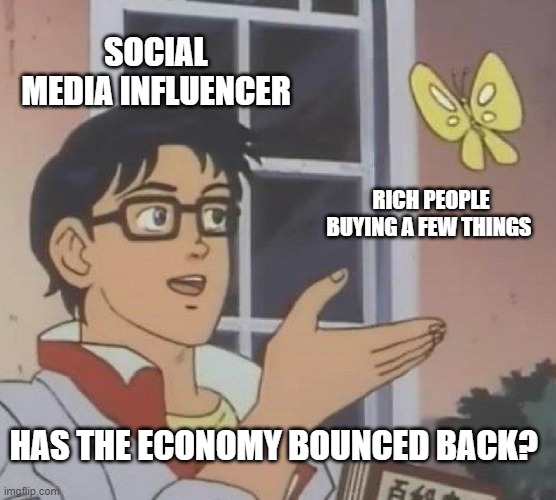 So, as you can see, all is well. And if you are a social media influencer who wants to tell the world that the Indian economy is firing on all cylinders, you won't get a better compilation of examples than this.
In fact, many social media influencers have narrowed this way of working right down to a business model. Their modus operandi is very simple. Just take one piece of data which shows a strong consumption trend, put it out on social media and then ask the question, who are these people questioning the strength of the Indian economy? This is followed by the influencers telling the world that their shared data shows that all is well and the future is bright.
Nonetheless, it is important to remember what the British economist Joan Robinson once said about India: "The frustrating thing about India is that whatever you can rightly say about India, the opposite is also true."
So, let's look at the opposite side as well.
1) In February, the total number of transactions carried out through the Unified Payments Interface (UPI) fell month on month by 6.3% to 7.5 billion. The total value of transactions fell by 4.8% to Rs 12.4 lakh crore. Given the popularity of UPI, a month-on-month fall shows people buying fewer things than they did in the month before, which is a sign of economic weakness.
2) The mobile teledensity in December fell to 82.6. This means that, on average, for every 1,000 individuals in the population, the number of mobile phones stands at 826. The mobile teledensity peaked at 91.1 in March 2018 and has seen a falling trend since then. Clearly, people are giving up on their mobile phone connections and thus reducing the teledensity, again a sign of economic weakness.
3) Smartphone sales in India in 2022 were at 152 million units, a fall of 9% from 2021. This is as per data from Counterpoint's Market Monitor service. (Yes, iPhone sales did grow).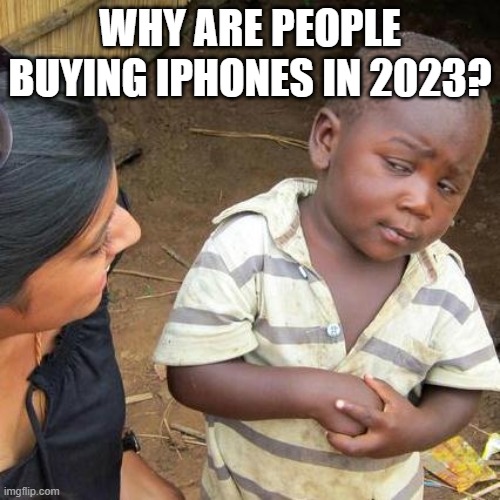 4) In a recent research note, economists Nikhil Gupta and Yaswi Agrawal of Motilal Oswal point out that from October to December, household investments (a bulk of which is an investment made in residential real estate) grew by just 1.3% in comparison to the same period in 2021. (The growth for the period April to December has been stronger at 18%).
5) The fast-moving consumer goods companies continue to remain under stress. According to NielsenIQ, the volume growth from October to December in urban India was 1.6%, whereas rural India saw a contraction of 2.8%. Volume is an indicator of the actual number of products people buy during the three-month period.
These data points tell us that people in rural India are cutting down on the consumption of essential products, which implies that rural incomes remain under stress.
6) Another interesting data point comes from footwear companies like Relaxo and Khadim. Let's look at Relaxo first. Its sales from October to December fell 8.5% to ₹681 crore. Regarding Khadim, their revenue from operations from October to December fell by nearly a fifth to Rs 149 crore from a year earlier. This is primarily because sales in the up-to-Rs 150 footwear segment have been negatively impacted.
7) As Bharat Puri, the managing director of Pidilite Industries, an adhesives manufacturing company, recently put it: "Actually, we are seeing fairly decent demand across Tier 1, 2, and 3 towns. It is actually Tier 4 and 5 that have been under pressure, which is really the rural and the semi-urban markets." This was while speaking to analysts during a conference call on 25 January. Puri expected that "rural and semi-urban markets [will] also… start hopefully turning around from January".
8) According to the latest Periodic Labour Force Survey, the proportion of workers employed in agriculture from July 2021 to June 2022 was 45.5%. This came down a little from July 2020 to June 2021, when it was at 46.5%. Nonetheless, it stood at 42.5% from July 2018 to June 2019.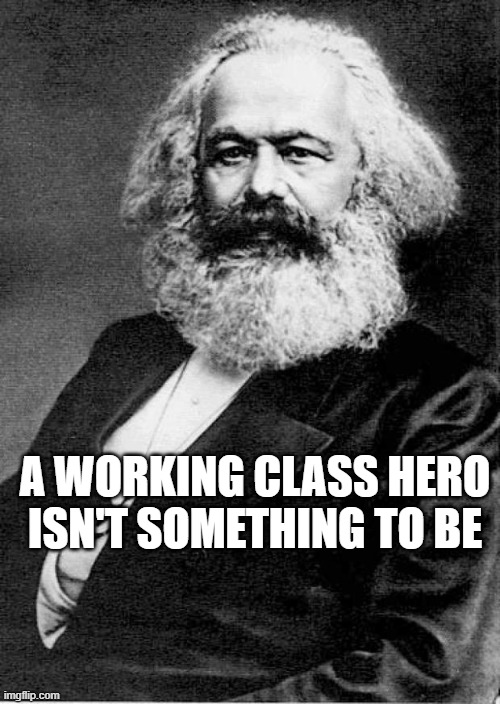 In fact, as the economist Himanshu wrote in a recent column in the Mint: "The absolute number of workers in agriculture declined by 33 million between 2004-05 and 2011-12. Almost a matching decline was observed between 2011-12 and 2017-18."
Nonetheless, "the slowdown and pandemic reversed this process", and "the agricultural sector witnessed a return of 36 million workers between 2017-18 and 2021-22." This has led to a scenario where "the absolute count of workers in agriculture stood higher in 2021-22 than in 2011-12".
Now, why is this a problem? Agriculture has huge disguised unemployment. This essentially means that there are way too many people trying to make a living out of it. On the face of it, they seem employed. Nevertheless, their employment is not wholly productive, given that agricultural production would not suffer even if some of these employed people stopped working.
9) In a report published in early January, Gupta and Agrawal of Motilal Oswal said that net household financial savings "plunged to a three-decade low of about 4.0% of GDP" during the first half of 2022-23. This is around half of the household financial savings (flow) of 8.1% during the pre-covid year of 2019-20. If savings go up to 7-8% of GDP through 2023-24, it will slow down the growth of private consumption.
10) And finally, as the Economic Survey of 2022-23 pointed out, two-wheelers have "witnessed the lowest sales in the last ten years".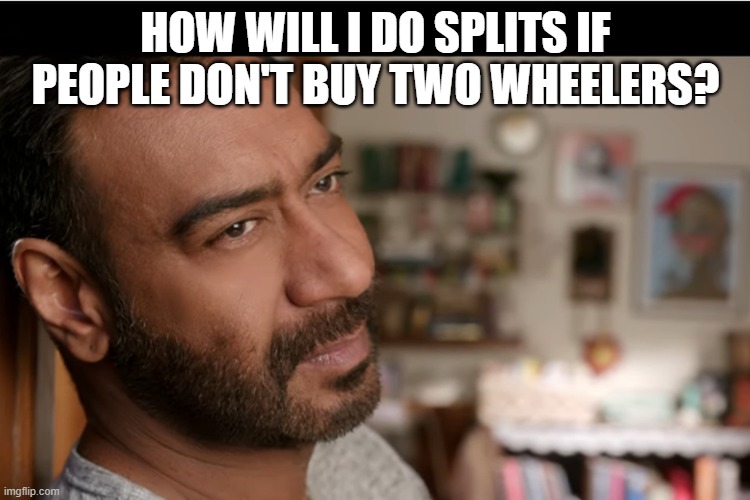 Dear Reader, I can go on and on with this and keep offering more data. But I guess by now, the point I wanted to make has been made. When it comes to the state of the economy, there are two Indias, one that is doing well and that can be seen in their consumption decisions, and one that is not, and that can also be seen in their consumption decisions. The purchasing power of one part has increased, and the purchasing power of the other part hasn't. The data brings this out clearly.
In fact, almost all of this data is publicly available. Other than a couple of research notes that I have quoted from, I have no special access. Indeed, I Googled up most of the information referred to in this piece. And that information tells us that while the well-to-do are in great financial shape in the post-pandemic world, a large section of the population isn't.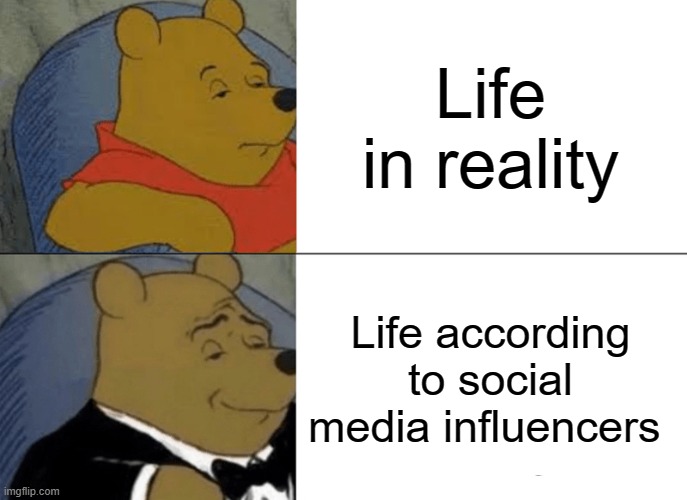 Now the question is, what stops many social media influencers from carrying out this exercise before posting stuff on the basis of very limited information? More high-end real estate is selling, so India is doing well. More Mercedes cars are selling, so India is on fire.
More people are holidaying abroad, so people have a lot of money to spend. Of course, this is true for a small section of the population, but not at an aggregate level.
The question is, why do they do this. Perhaps they don't have the time to sit and Google things. People have many things to do in life, and everyone doesn't have the time (like I have) to sit and read things with the intent of understanding them. It's just easier to believe what comes their way on social media, from Twitter to WhatsApp. And once such understanding has been arrived at, it is time to pass it on.
Or perhaps, like a lot of us tend to do, many people make sense of the world at large on the basis of the experiences they have access to. Those tend to be their behaviour as a consumer and the consumer behaviour of those around them.
In the book Noise—A Flaw in Human Judgement, Daniel Kahneman, Olivier Sibony and Cass Sunstein refer to this as the availability heuristic. This involves "substituting a judgment of how easily examples come to mind for an assessment of frequency".
You know one of my neighbours went to Brazil this year. The other one went to New Zealand. Hence, the Indian economy as a whole is doing well.
Or, oh, that SUV I want to buy has a waiting period of 13 months. My second choice car has a waiting period of 10 months. The economy is booming. Everyone is buying cars.
The trouble is a part needs more than just that part to understand the whole. And this point is very difficult for most of us to understand, given that we tend to give a lot of weight to our experiences. While that might work in a narrow field of work (like a top-level corporate job), it is a hindrance when trying to make sense of something as broad as the Indian economy.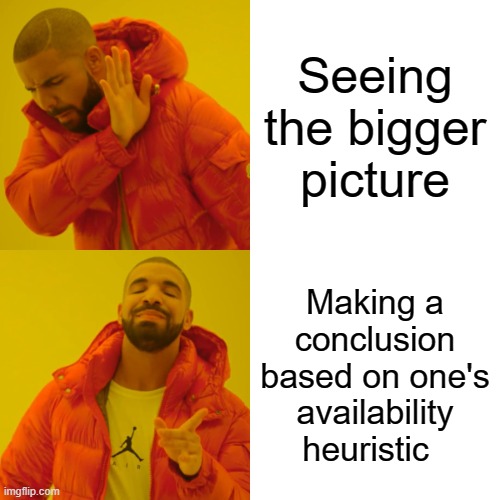 Other than what has been explained above, in some cases, malicious intent is also at work, where the idea is to spread a certain narrative by using incomplete data in many cases and false data in others. Why do people do this? Because they are incentivised to do it.
Further, irrespective of whether a statement is true or false, belief in the "truth of the claim" goes up "as a function of repetition". As Sander van der Linden writes in Foolproof—Why We Fall for Misinformation and How to Build Immunity: "In other words, the more often you hear a statement, the more true it sounds." This is referred to as the illusory truth effect.
So, the more you hear about the waiting period for high-end cars selling, demand for high-end real estate, Indians holidaying abroad etc., the more you start believing in the narrative that India as a whole is doing well. The more people are bombarded with such information, the more true it feels and the more they are inclined to share it with others.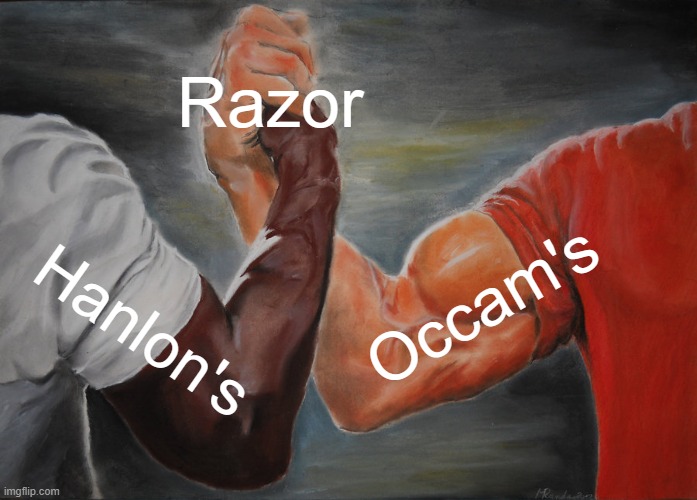 The comedian Stephen Colbert refers to this tendency as truthiness or something that comes from the gut, not books. As Linden writes: "What's more important is that under conditions of the limited time, we're all likely to rely on our intuition and mistake fluency for truth." And this is why you see many people who you don't expect to share just one data point and make broader conclusions, go ahead and do it. Malicious intent is at work.
So, as I end writing this piece, there is a knock on my door. A book is being delivered. After I had signed for the delivery, the courier guy looked me in the eye and asked: "Kuch khaane ko milega? Biscuit wagerah. Bhook laga hai (Can I get something to eat? Perhaps biscuits. I am very hungry)." I didn't have biscuits at home, so I gave him some chocolate to eat.
Now I can use this example and say that there many Indians out there in low-level jobs who are not earning enough and hence, are going hungry. I can keep repeating it over and over again and get more people to believe it. But I don't have that malicious intent.