What about domestic two-wheeler sales?
Take a look at the following chart which plots the domestic two-wheeler sales from April to December over the years. Two-wheelers include motorcycles, scooters and mopeds.
Last week I wrote a piece for Livemint.com, in which, looking at the above chart, I concluded that domestic two-wheeler sales from April to December 2021 had been the lowest in a decade. They were lower than the sales from April to December 2020, even though there were zero two-wheeler sales in April 2020. (These sales include some electric vehicles and don't include others, given that every electric two-wheeler manufacturer is not a part of SIAM, the industry body which shares this data. But the sales of electric vehicles are minuscule, and they don't make any difference to the overall point being made).
The two-wheeler sales are at a decadal low despite very low interest rates. What this tells us is that people who possibly want to buy two-wheelers aren't confident enough about their economic future and their ability to pay EMIs. The interesting bit is that this is not just the negative economic impact of the pandemic. Two-wheeler sales peaked in 2018-19. They have been falling since.
A possible explanation for this lies in the fact that the economy was already suffering from the negative impact of demonetization and the botched up introduction of the goods and services tax before three covid waves struck, destroying a significant portion of the informal sector.
Hence, the impact of India's post and pre-covid slowdowns has been different on different segments. Passenger vehicles sales haven't been impacted as two-wheeler sales have been. The demand for expensive real estate has picked up post covid. Credit card spending remains strong.
When I made the point regarding two-wheelers last week, many explanations were offered on social media. They concluded that the fall in sales had got nothing to do with different sections of the population being impacted differently.
Let me try and summarize those explanations and why they don't make sense.
1) The number one explanation offered was that people are waiting to buy electric two-wheelers. Two-wheeler sales have been falling for three years now. Does it mean people have been waiting for three years to buy an electric two-wheeler? Somehow I am unable to digest that.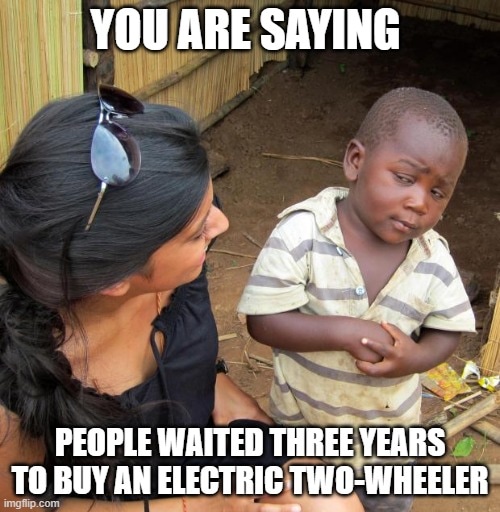 2) Another explanation offered was that people are buying electric two-wheelers. They are. But the total amount is way too low. As a report in the Mint pointed out, data from the Society of Manufacturers of Electric Vehicles (SMEV) shows the total electric two-wheeler sales in 2021 had stood at 233,971 units against 100,736 units sold in 2020. Clearly, sales have more than doubled, but they are minuscule in the overall scheme of things.
3) Rajiv Bajaj has explained the slowdown in two-wheeler sales by linking it to a 30% increase in prices in a quick time. Electric two-wheelers tend to be more expensive than normal ones. So, if many people are not buying normal two-wheelers, they can't possibly be waiting to buy electric ones.
4) Another explanation offered was that while people may not be buying new two-wheelers, the second-hand market is hot. I spoke to a couple of experts who know the second-hand market well, and they did say that the market is pretty hot right now.
Now, what does that tell us? People buying second-hand vehicles does not expand the overall market or the economy in the same way as buying a new vehicle does. Further, people who are buying used vehicles are not financially in a position to buy a new one. For every buyer, there needs to be a seller. Hence, why are people selling their two-wheelers? Are they in a financial crunch?
Of course, it can be argued that people are selling their old-two wheelers to buy newer ones or possibly even buying a car. But that explanation also doesn't work because sales of entry-level cars have largely been flattish. Also, given that two-wheeler sales have come down dramatically, people can't be selling older two-wheelers to buy newer ones, at least not in the aggregate.
5) Oh, there was also the Uber-Ola argument. People are not buying two-wheelers because they are using Uber-Ola. Some lame arguments never die; they just find a new generation of believers. Uber-Ola was there even in 2018 when their services were perhaps much better than they are now, but that did not stop people from buying two-wheelers.
6) One sensible explanation offered was that people are working from home and hence, don't need to buy a two-wheeler. This makes sense. Nonetheless, even those buying new passenger vehicles are working from home, but that hasn't stopped them from buying.
7) Another sensible argument made was that the two-wheeler density in India is already quite high. The data bears this out. According to the Road Transportation Yearbook of 2018-19, as of 2018, India had 128 two-wheelers per 1,000 of population. This is one of the highest in the world, though not the highest, with Italy and Indonesia being higher at 161 and 403, respectively.
This leads to two more interesting points. First, while two-wheeler density may have peaked, people aren't moving on to buying cars. When it comes to passenger cars, the penetration is at 23 per 1,000 people, when it's at 116 in China and 56 in Indonesia. Clearly, people are not moving up the value chain.
Second, if two-wheeler density is already high, what does that tell us about the immediate future of electric two-wheelers? Of course, as the life of the two-wheelers people currently use gets over, they will have to buy newer ones. Nonetheless, for them to buy electric two-wheelers, many other things need to come into place.