Matryoshka Analysis
I peel layer after layer of statistical data to arrive at the core of the message of the markets.
I start with the NSE advance-decline ratio. This indicates the risk appetite of one marshmallow traders. These are pure intraday traders who do not roll over their trades to the next session/s.
Last week we saw the ratio climb above 1 for three sessions. That was after the ratio fell to a low of 0.13 on 13 June. The next fortnight saw bulls on the ropes and lacking buying conviction.
Sharp rallies in this ratio were met with stinging sell-offs. It's now appearing to find a bottom. I have written in the past this ratio is a leading indicator of market trends. So any change in the direction of the wind will show up here first.
Traders should watch their trading terminals keenly with an eye on this metric as a priority in the week ahead.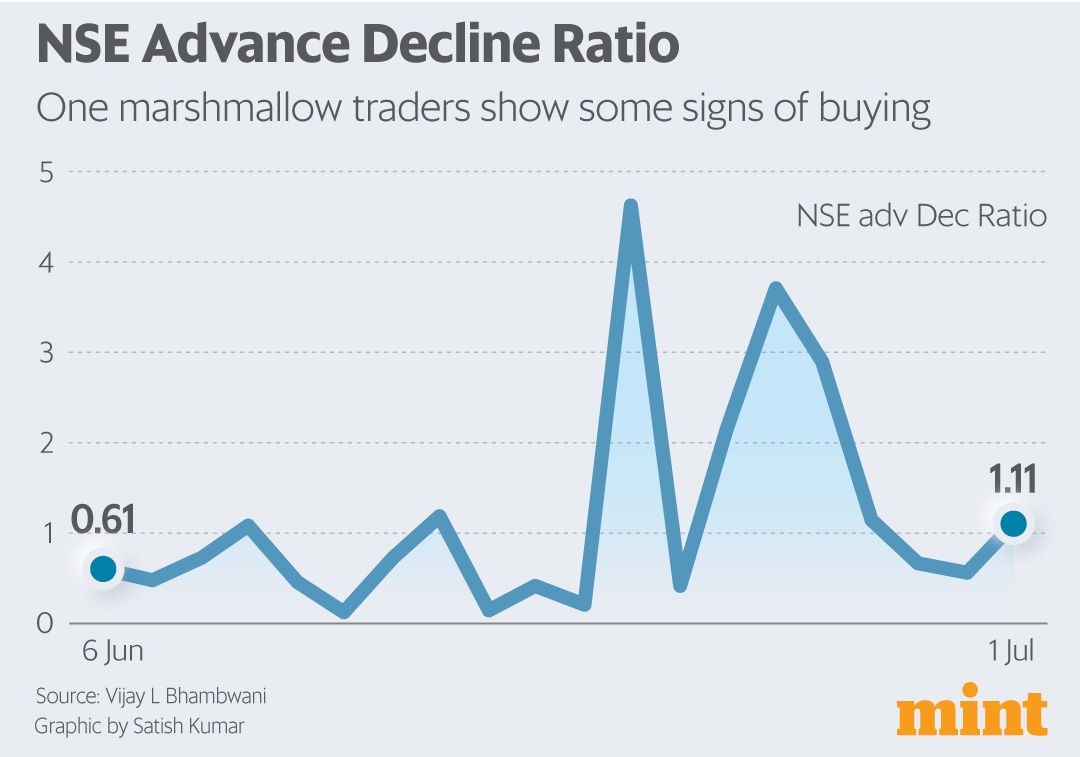 (Click to expand)
The second chart I share with my readers is my in-house lift, weight, thrust and drag (LWTD) indicator. Like the principles of powered flight of an aircraft, any stock faces these four forces in a trading session.
The blue line is the percentage gain or loss of the Nifty spot. The red line is the LWTD indicator. This study gauges the risk appetite of two marshmallow traders (traders who roll over their trades to the next session/s).
Note how the index gain/loss line was prancing all over the place in bouts of extreme volatility. Declines were sharper than gains. This period coincides with the advance-decline ratio making a low of 0.13, as mentioned earlier.
There is relative stability in the Nifty gain/loss line now, and the LWTD indicator has turned above the zero line.
I have noticed markets seeking equilibrium when both lines are moving in the same direction. In case of divergence, the Nifty line tends to move towards the LWTD line. The week may open with the markets attempting to edge higher.
Follow-up action will determine whether bulls have the firepower to take the market higher in the following days.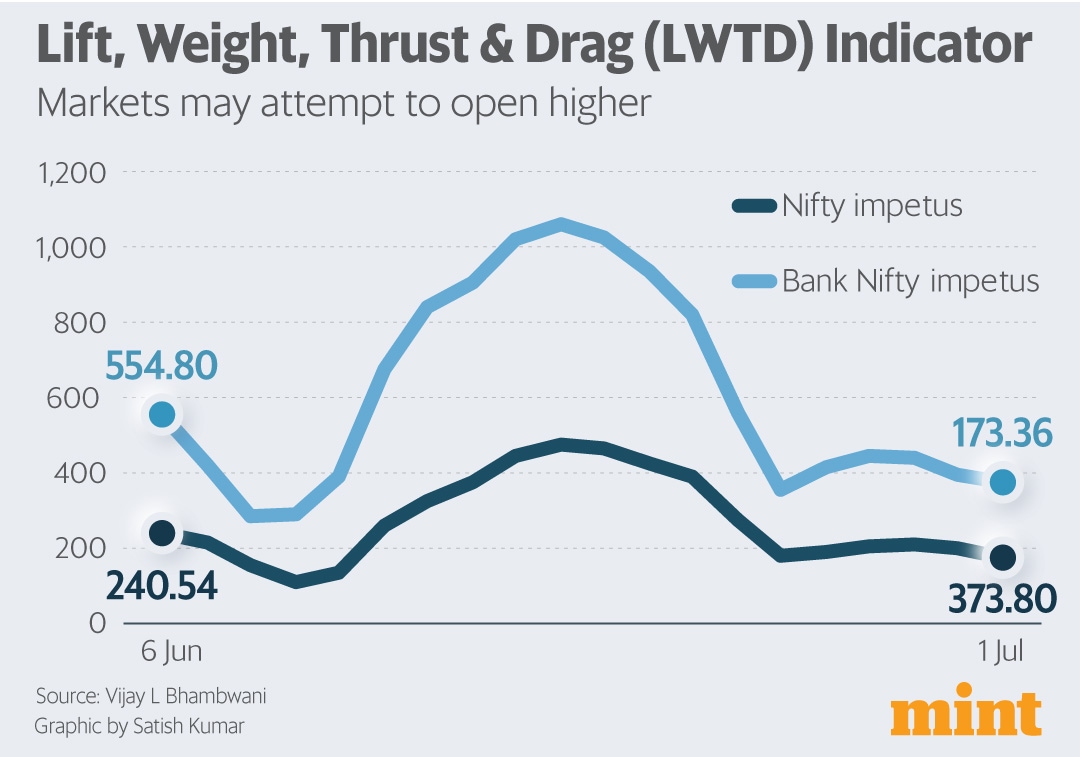 (Click to expand)
The third chart is my in-house indicator, 'Impetus.' It measures the risk appetite of two marshmallow traders.
Last week we saw both headline indices under pressure. However, the dips were on low impetus, which means bears were not pressing shorts aggressively. This may or may not be a sign of assured optimism.
We need to watch whether the selling abated as a temporary respite or bears are getting diminishing returns on their short sale endeavours.
Being in the lower end of the range, chances are the impetus reading will rise. Should that happen when both indices rise, that would indicate that bulls have the initiative for now.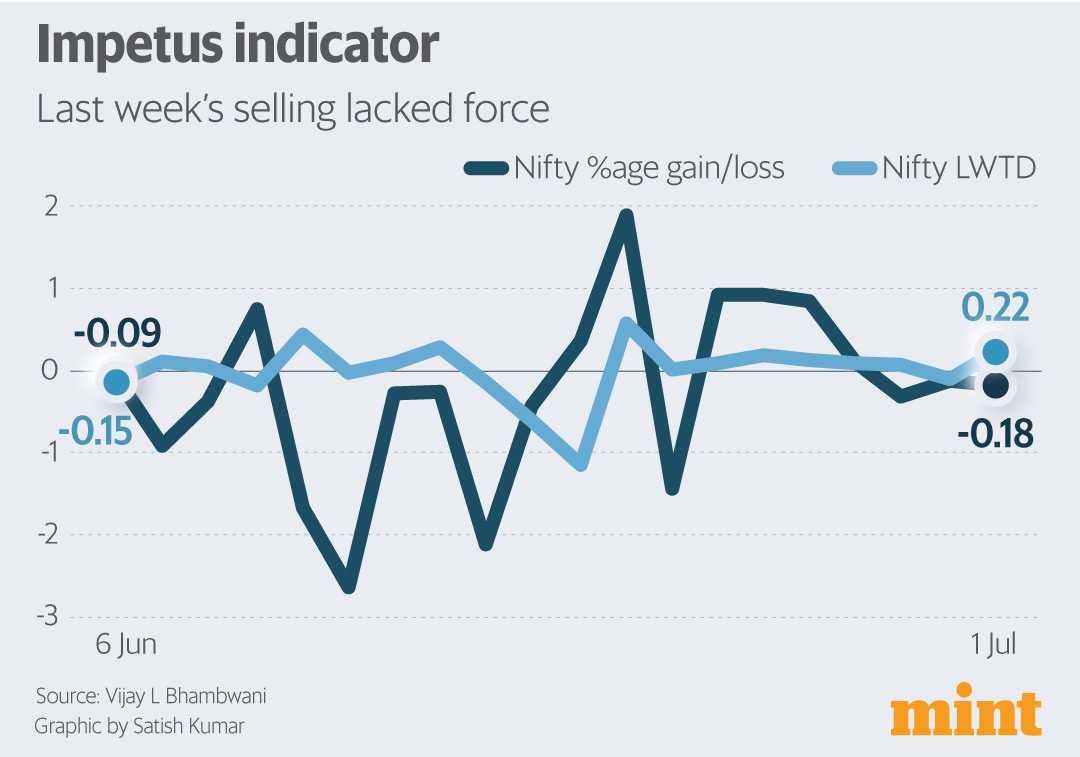 (Click to expand)