Good Morning
Should the outgoing bosses select their successor?
Twich+ will be surprised if the next boss of Tech Mahindra is anyone but Manish Vyas
Should outgoing CEOs at a company have a say in finding a successor? Twich+ wrestled with this question after last week's developments at Tech Mahindra Ltd.
India's fifth-largest technology services company has outlined a succession plan under which the current chief executive officer C.P. Gurnani will be a special invitee to the board's nomination and remuneration panel that will find the next boss by December next year.
The current five–year term of Gurnani, the longest-serving CEO at a homegrown technology services firm, was to end on 10 August. However, as Gurnani turns 65, the retirement age at the company, on 19 December 2023, the board approved a third, albeit a shorter stint.
This is what the press release dated 13 May said: "Earlier in the day the Nomination & Remuneration Committee considering the performance of the Managing Director & CEO over the last 10 years & his contribution to the growth of the Company had recommend to the Board reappointment of Mr. C. P. Gurnani as Managing Director & CEO for another term, which will start on 10 August 2022 and end on 19 December, 2023, which is his date of retirement from the company. The Nomination and Remuneration Committee and the Board of the Company will ensure a structured and thoughtful succession plan. Mr. C.P. Gurnani will be a special invitee to the Selection committee and play an important role in ensuring a smooth transition."
The four-member nomination and remuneration committee or NRC comprises Anish Shah, the managing director of Mahindra and Mahindra, T.N. Manoharan, Shikha Sharma and Mukti Khaire.
Shah joined the board of Tech Mahindra in April last year. Mukti Khaire, a professor who teaches business at Cornell Tech, the New York-based college, came on board in April 2019 while Sharma, whose fourth term at Axis Bank was jettisoned by the Reserve Bank of India, joined in August 2019.
Manoharan, a charted accountant, is the chair of the NRC, and he has been with the company for more than a decade. In January 2009, when Ramalinga Raju admitted to corporate malfeasance at Satyam Computer Services Ltd, New Delhi entrusted Manoharan, along with two other nominees, to salvage the Hyderabad-based technology services firm. Subsequently, Tech Mahindra paid $582 million to buy Satyam in June of that year. Three years later, Manoharan was appointed an independent director, a role in which he continues until now.
Let us examine the journey of Tech Mahindra over the last decade.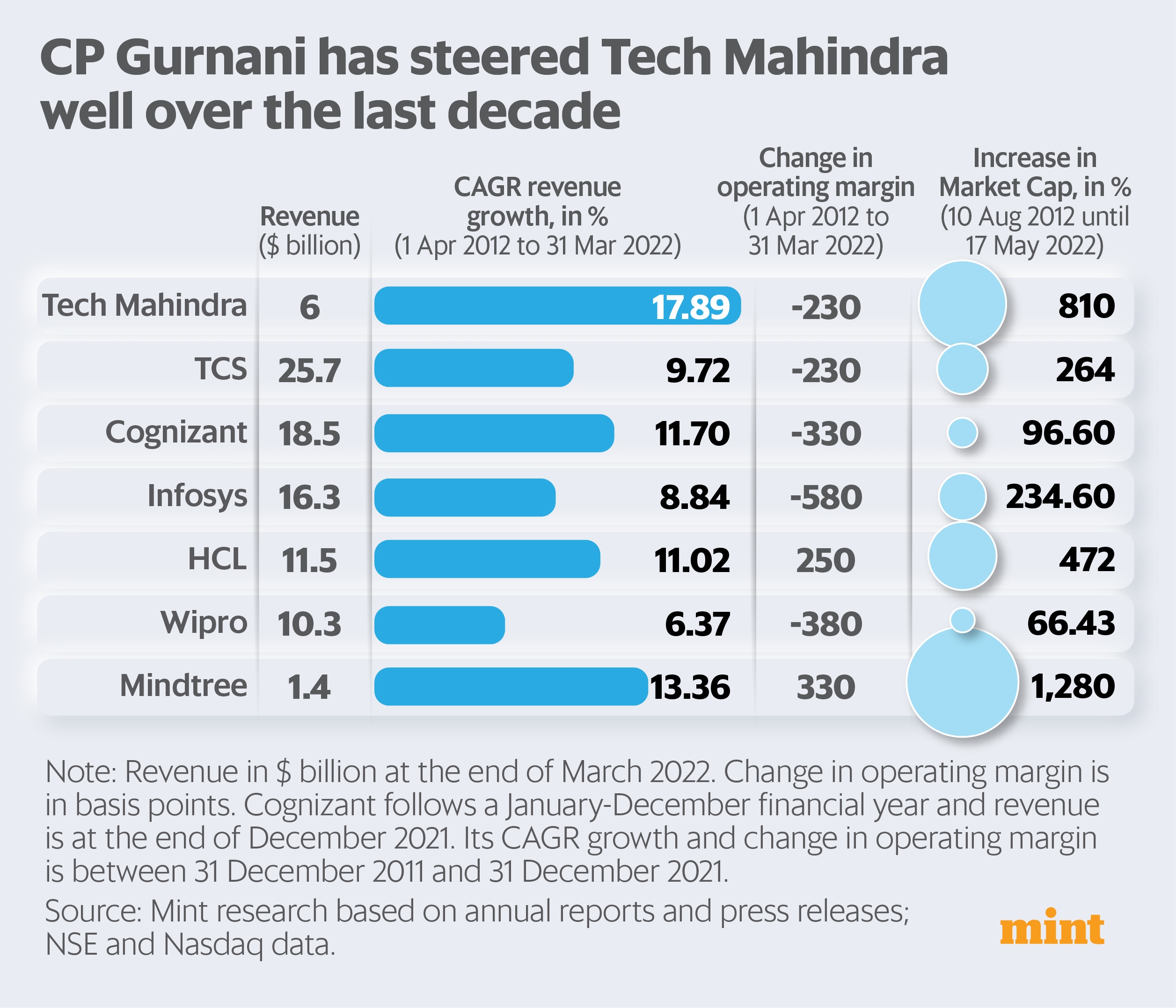 (Click to expand)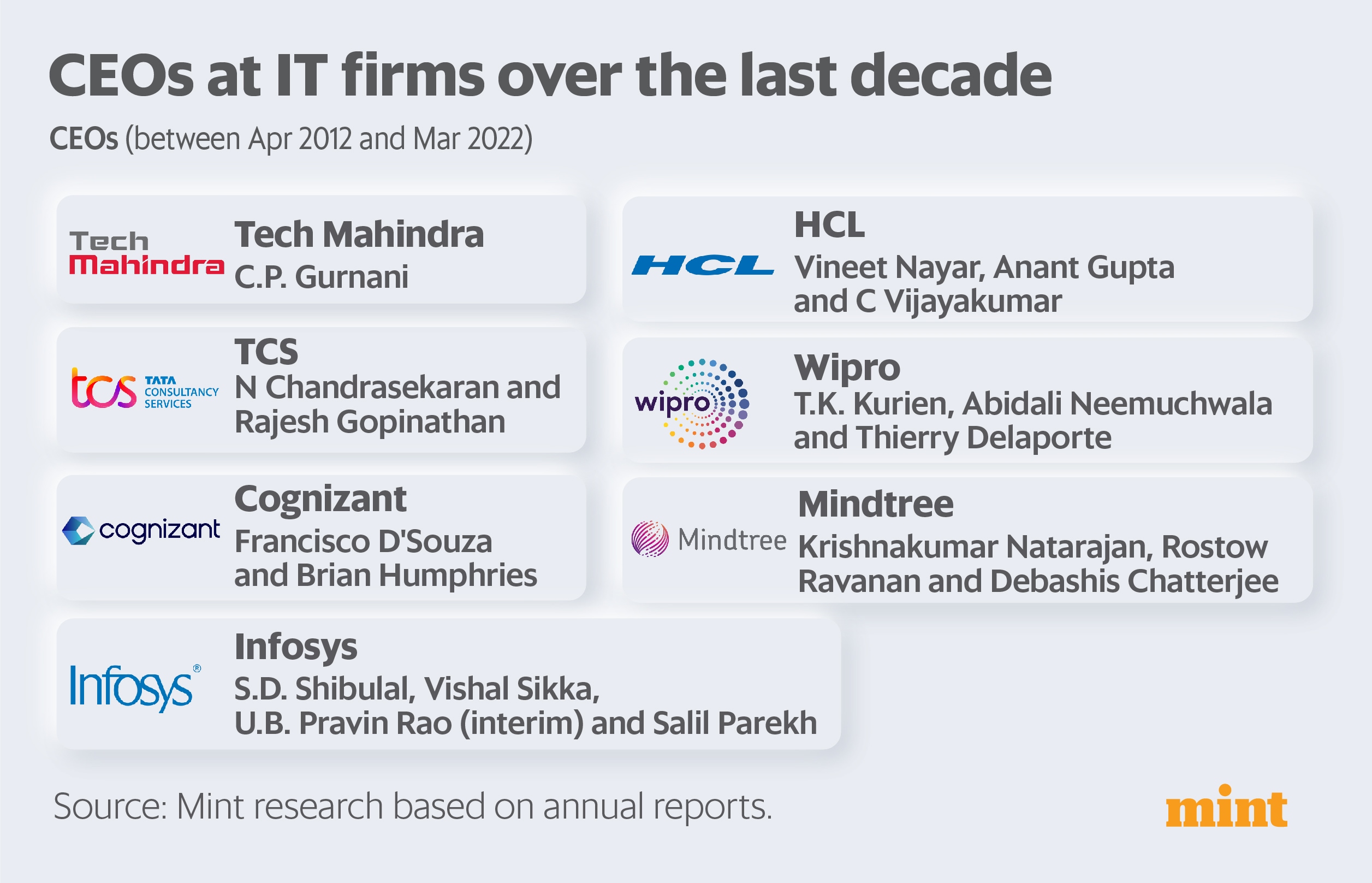 (Click to expand)
Growth in percentage terms may be a tad misleading because of the difference in the size of India's largest and fifth-largest technology services company: Tata Consultancy Services Ltd does more business in one quarter than what Tech Mahindra does in a year.
Still, Tech Mahindra's performance on Gurnani's watch is creditworthy. It has recorded the fastest compounded revenue growth (about 18%) and the second-highest jump in market cap jump (810%) when compared to six firms in the last decade. Profitability has declined. But Tech Mahindra has managed to arrest the decline better than Cognizant Technology Solutions Corp, Infosys Ltd and Wipro Ltd.
It is important to mention here that much of the company's business has been aided by the 37 acquisitions, which together accounted for 65% of all the incremental revenue growth between 1 April 2012 and 31 March 2022.
Unquestionably, Gurnani has delivered. And so having him assist or veto (depending on how independent is the Board) the successor is understandable as he has a better grip on the business, reasons Amit Tandon, founder and managing director at IiAS, the proxy advisory firm.
Tandon also believes that there is nothing wrong with a company seeking the assistance of a long-serving boss. After all, the boss knows the company better than an independent director and can help in identifying a leader who can maintain continuity and the culture of the organization. But on the flip side, a strong and pugnacious CEO like Gurnani also has an outsized influence on the decision-making among others.
A CEO also has the temptation to prefer someone who thinks alike.
For this reason, some like David F Larcker, a professor of accounting at the Stanford University Graduate School of Business, argue that when it comes to choosing a successor, outgoing CEOs should take a back seat. "When powerful CEOs play a role in the succession process, they steer the choice toward someone with similar characteristics to themselves," says Larcker.
Another point that goes against having an outgoing CEO play a part in the succession process is that it almost shuts the door to hiring an external candidate.
An outgoing CEO would want his successor to carry on with his legacy. Who better than an internal candidate to bank on than a rank outsider!
Twich+ will compare the performance of external CEOs versus internal leaders at homegrown IT services firms in a separate piece.
But looking at the performance of the rest of the IT pack, it is evident, for now, that external bosses are managing a better job.
Over the last four years, eight of the ten largest homegrown technology services firms have CEOs hired from outside the company (Tata Consultancy Services Ltd and HCL Technology Services Ltd have internal leaders).
Gurnani was the boss at Perot Systems (a joint venture between HCL Technologies and Perot Systems) before he joined Tech Mahindra in 2004.
It is risky to prejudge the outcome of this succession process, especially as it has just started. But based on how this search has been outlined and how such succession planning has been undertaken at other companies, your writer will be surprised if the next boss of Tech Mahindra is anyone but Manish Vyas.
Vyas, who joined the company in 2000, oversees the business from telecom clients, which accounted for 40% of Tech Mahindra's revenue. He will be 52 next year, which implies that if he can lead Tech Mahindra for a long time, provided he indeed gets the job.
For now, Tech Mahindra has delayed the day of judgment. Shareholders will need to wait until next year to see if Twich+ was wrong in telling in advance the next chief executive. For investors, they will need to be a patient for a few more years before concluding if Tech Mahindra's board got it right with this succession planning exercise.