Good Morning
Why Tech Mahindra needs to refresh its acquisition strategy
The ninth edition of Twich+ puts a spotlight on India's fifth-largest IT services company.
Dear Readers: how would you ascribe the performance of a company that has had about 65% of all new business over the last decade made through acquisitions?
Tech Mahindra Ltd, which bought 37 firms since 1 April 2012, is the most acquisitive company among the homegrown IT services industry. It started as a joint venture between British Telecommunications PLC and Mahindra & Mahindra in 1986 and went public in 2006.
Subsequently, Tech Mahindra paid $582 million in June 2009 to buy Satyam Computer Services Ltd after an accounting scandal by Ramalinga Raju at the Hyderabad-based company. At the time of the acquisition, Satyam had revenue of $985 million.
C.P. Gurnani was entrusted to turnaround Satyam, which was rebranded as Mahindra Satyam while Vineet Nayyar continued to steer Tech Mahindra even as both the companies continued to run separately until they were merged in June 2013.
Twich+ did a deep dive on the acquisitions made by Tech Mahindra over the last decade; the adjoining infographic details the cost of each of the 37 acquisitions and their revenue when they were bought.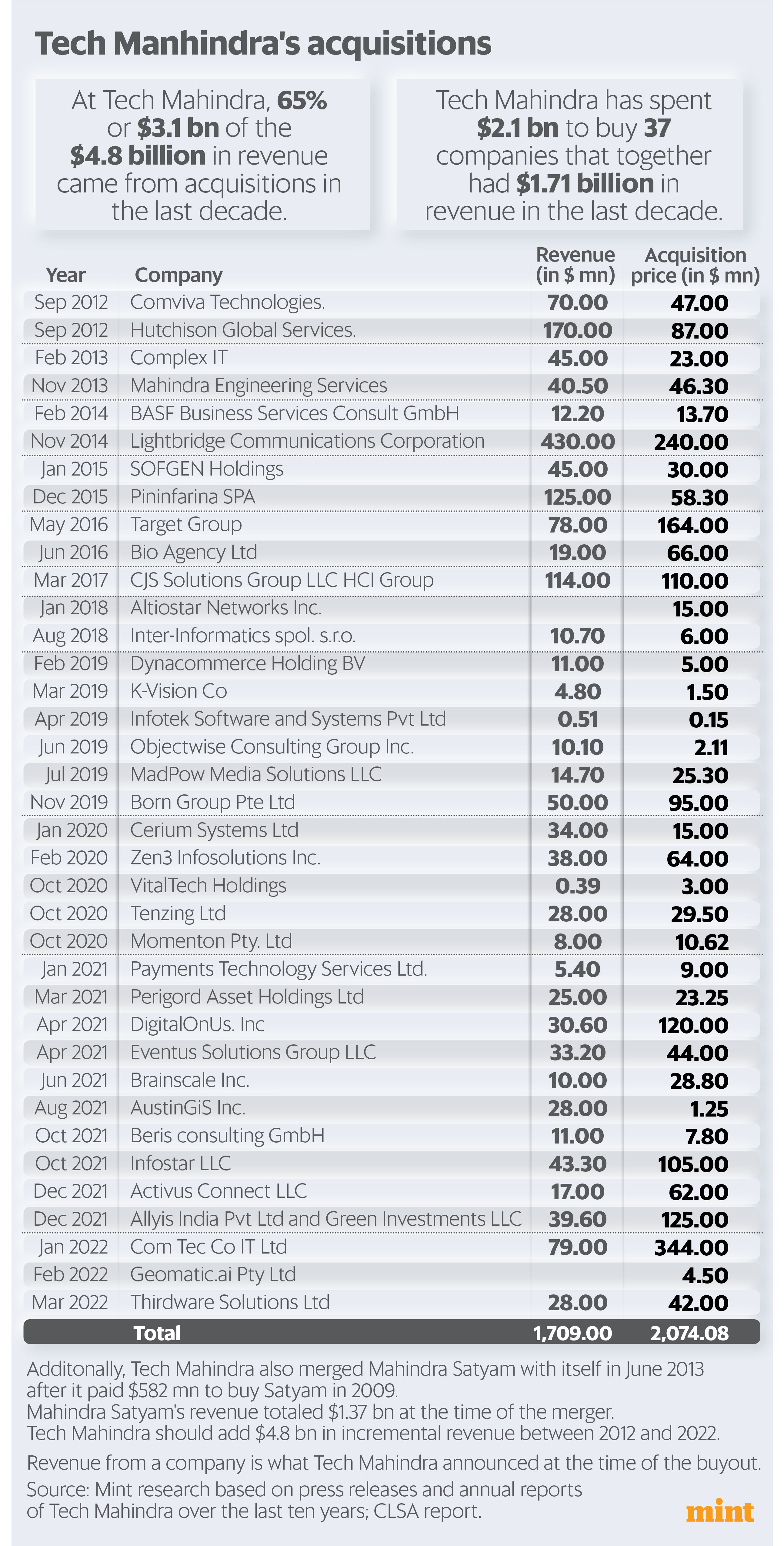 Over the last decade, Tech Mahindra spent $2.1 billion to buy 37 companies that together had $1.71 billion in revenue.
Tech Mahindra merged Mahindra Satyam with itself in June 2013. At the time of the merger, Mahindra Satyam's revenue totalled $ 1.37 billion.
This implies that during the last ten years, Tech Mahindra got $3.1 billion from all the buyouts and from the integration of Mahindra Satyam.
Tech Mahindra, which ended with $1.16 billion in revenue in the year ended March 2012, should end the year with $5.95 billion in revenue in the year ended March 2022, if it manages a 2% sequential growth in the current January-March period.
That would leave Tech Mahindra with having added $4.8 billion in incremental revenue.
About 65% or $3.1 billion in revenue came from acquisitions.
Buying another business for a technology capability is a good decisive action. Agreed, a few of the buyouts made by Tech Mahindra were for acquiring some of the technologies that were absent in the company (Eg Pininfarina, the Italian car design firm). But most of the acquisitions made until the end of 2018 were done largely for buying revenue (captives of two telecom majors Hutchison and Bharti).
This is underscored by the buyout price for each of the acquisitions made by Tech Mahindra. Companies offering data analytics or artificial intelligence tools or a design agency firm command a four-five times premium to its revenue.
Such a large share of business built on the back of acquisitions makes your writer question if Tech Mahindra's insipid growth over the last few years will hurt if it steps off from the acquisition treadmill. Return on capital employed, a financial metric that evaluates the profitability and capital efficiency has been one of the casualties of this indiscriminate capital splurge: From an impressive ROCE of 43% at the end of 2012, Tech Mahindra's ROCE plummeted to 24.1% last year.
Agreed, Tech Mahindra made a course correction, and over the last three years, it has started buying companies focused on fast-growing areas dubbed as digitally native firms.
But is it too late?
"TechM has made structural changes to its M&A strategy since 2018," Pankaj Kapoor, an analyst at CLSA, the brokerage, wrote in a note dated 12 July 2021. "While the acquisition intensity remains high, the focus has shifted to acquire capabilities in the fast-growing market segment than adding scale, be acquiring potential turnaround cases (like Satyam). There is also a tighter integration plan, more regular monitoring and governance, and a defined roadmap to drive synergies. Importantly, these are relatively smaller in size which ensures both a faster integration as well as a minimal drag on consolidated financials."
IT services companies are emerging as the biggest beneficiaries of the increased technology spend on upgradation of current technology networks by companies, globally.
For Tech Mahindra to emerge as a stronger contender in this decade, it first needs to find an able successor to Gurnani, the longest-serving boss in the IT services industry, and whose current five-year term ends on 10 August. Gurnani did a good job when it came to integrating Mahindra Satyam and in the ensuing years helped Tech Mahindra become the country's fifth-largest IT services company. The road ahead for Gurnani's successor will not be an easy ride.
Varun is a Mint journalist and author of Azim Premji: The Man Beyond the Billions. Follow him on Twitter or mail him at varun.sood@livemint.com.