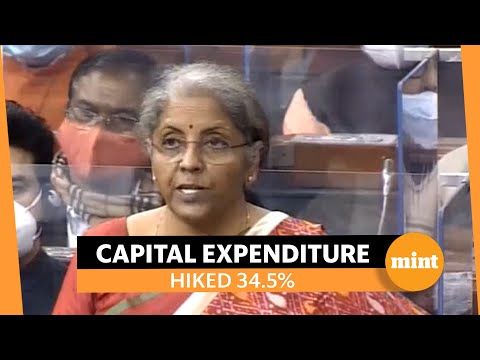 Budget: For infra push,
₹

5.5 lakh crore capital expenditure announced

Updated: 01 Feb 2021, 04:01 PM IST
Union Finance Minister Nirmala Sitharaman proposed a sharp 34.5 per cent hike in capital expenditure for the FY 2021-22 to

₹

5.54 lakh crores to push growth. 'In the BE 2020-21, we had provided

₹

4.12 lakh crores for capital expenditure. It was our effort that in spite of resource crunch we should spend more on capital and we are likely to end the year at around

₹

4.39 lakh crores which I have provided in the RE 2020-21,' the minister said while tabling the budget 2021-22 in the Parliament. 'For 2021-22, I propose a sharp increase in capital expenditure and thus have provided

₹

5.54 lakh crores which is 34.5 per cent more than the BE of 2020-21,' she said. This is the first budget after the Covid-19 pandemic and the ninth one under the Modi government. The Union Budget 2021 is also unique as it will be the first paperless budget. Watch the full video for more.